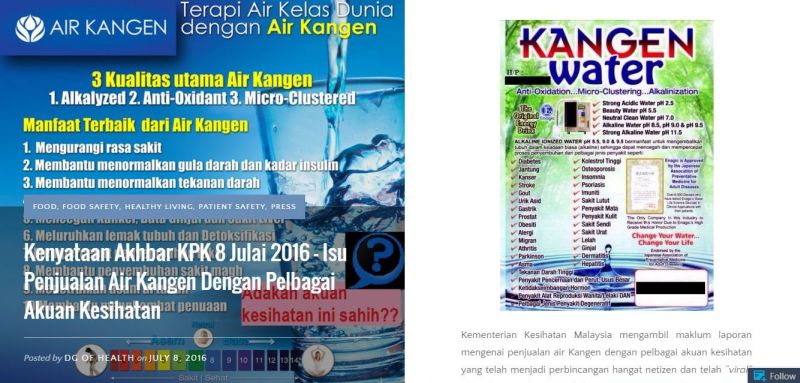 KUALA LUMPUR, July 9 ― Health Director-General Datuk Dr Noor Hisham Abdullah has announced a crackdown on the sale of unlicensed bottled Kangen water following its near miraculous health benefit claims.
He said the Health Ministry has noticed the hot discussion of Kangen water on social media where the ionised water with high alkaline content has been touted to prevent and speed up healing from a number of diseases.
"In this matter, the Health Ministry of Malaysia takes a serious view of the food advertisement that has confused many people with its diverse health testimonials," he said in a statement on his official Facebook page late last night.
He warned that regulations under the Food Act 1983 require the sale of packaged water to be licensed by the Health Ministry and failure to do so is an offence. Those convicted can be fined a maximum RM5,000 or jailed up to two years and have their products confiscated.
He added that Section 17 of the Act also prohibits the advertisement of food with health testimonials. Those found to have violated the provisions can be charged and face three years imprisonment, a fine, or both.
"After scrutiny, the sale and advertisement of Kangen water is found to have violated the provisions of law above and the Ministry of Health Malaysia is taking action according to existing legal provisions towards the sale and advertisement of Kangen water that claims to have multiple health testimonials," Dr Noor Hisham said.
He urged those with doubts to check the ministry's website or the Facebook page of its Food Safety and Quality division for further details.
Dr Noor Hisham's statement was accompanied by promotional posters of Kangen water, produced by a US company called Enagic that touted it as "the original energy drink" that has been endorsed by the Japanese Association for the Prevention of Adult Diseases.
According to the poster, Kangen water is alkaline ionised water with pH levels ranging between 8.5 and 9.5 and can prevent and speed up recovery from diseases like cancer, stroke, hepatitis, asthma, male and female reproductive illnesses and other degenerative diseases.
The Health Ministry's latest announcement comes in the wake of another alkaline water controversy last month, when Universiti Sains Malaysia (USM) and Malaysia's sweetheart singer Datuk Siti Nurhaliza Tarudin promoted a filtration system called I-Mizu in a glitzy hotel affair in the national capital.
USM has since clarified that it is not involved in the business deal and issued an advisory to check the authenticity of such health claims.
The local company behind I-Mizu, Miresco Integrated Sdn Bhd, has also clarified that the bold claims in its promotional poster was a "mistake" by its employees, but maintains its research proves its filtration system producing hydrogen-rich alkaline water is a "good drink for everyone".