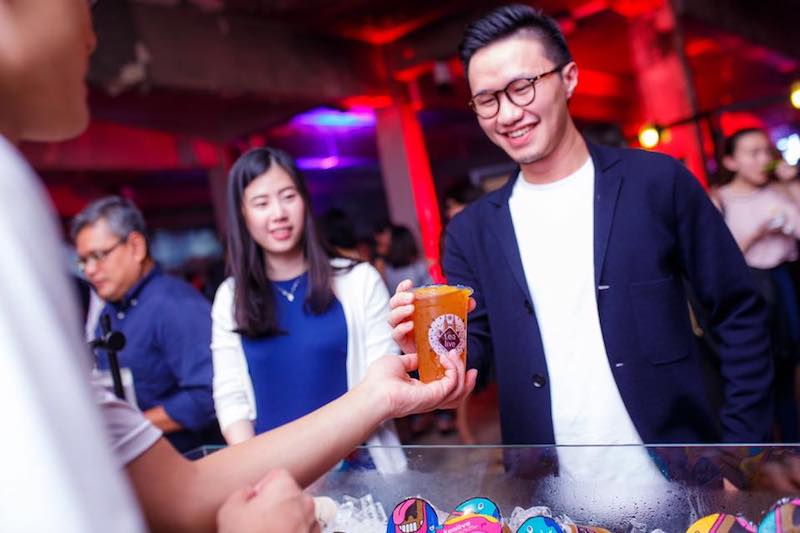 KUALA LUMPUR, June 12 — Loob Holding Sdn Bhd, the creator of Malaysia's Tealive bubble tea brand, today announced a joint venture with two Chinese companies to bring 500 Tealive stores to China within three years.
The Malaysian company inked the deal with Zhejiang Boduo International Trade Co Ltd and Shanghai Panfei International Trade Co Ltd at an elaborate ceremony attended by retail and franchise industry officials as well as Government representatives from both Malaysia and China.
CEO Bryan Loo signed for Loob Holding which will take a 51 per cent majority stake in the joint venture which will be known as Shanghai Loob Boduo Food and Beverage Co Ltd, subject to company registration approval by the relevant authorities in China.
Signing for the Chinese partners were their executive directors, Yu To for Zhejiang Boduo International Trade and Pan Junfei, for Shanghai Panfei International Trade.
Loo said the joint-venture would see the first Tealive outlet opening in Shanghai this September before more stores are opened in other targeted cities. He expressed confidence that the joint-venture would be able to achieve the targeted 500 stores in three years.
"Barely six months after the birth of Tealive, we took the brand to Vietnam and we now have five outlets. We have penetrated the Australian market with our first store there next month.
"Just last month, we appointed our Master Franchisee in India and we are targeting 140 outlets within five years. Once again, Loob has achieved a 'breakthrough' being the first Malaysian bubble tea brand to enter India," said Loo.
Noting that China, the world's largest tea market, will be the fourth overseas market for Tealive, Loo said this augured well for the progress of Loob's "breakthrough" campaign where the brand encouraged Tealive lovers to always push the boundaries and achieve "breakthrough" results in all their endeavours.
Loo said Tealive served 2.5 million consumers each month in its 175 outlets and the brand was still expanding every week.
On prospects in China, Loo said latest indicators were that the market for tea in China had now exceeded US$21 billion (RM84 billion) per year.
"There is so much history about tea in China. Already the Chinese now drink five times more milk tea than coffee. We can safely say that with the arrival of pearl milk tea to mainland China some years back, coffee has taken a backseat," he added.
Loo sees great potential in this venture into China. "We are happy to seal this partnership with Zhejiang Boduo Holding Group and Shanghai Panfei. We look forward to a long and mutually beneficial relationship with them," he said.
Yu Tong, Executive Director of Zhejiang Boduo, described Loob Holding as a great partner with a strong determination to introduce modern tea culture throughout the region and the world.
Yu said besides being the world's largest tea market, China was today also the largest tea producer and exporter known for supplying some of the world's best tea. He forecast that China's tea market would continue to boom.
Another indicator, Yu added, was that tea accounted for only 7.0 per cent of the total domestic beverage consumption in 2000 but it more than tripled its "share of the throat" to 26.0 per cent in 2015.
"In the past five years, the overall industry volume has been increasing at an annualised rate of 4.5 per cent to an expected US$21.1 billion in 2018," he said.
The agreement signing ceremony was witnessed by Tan Sri Datuk Ter Leong Yap, President of the National Chamber of Commerce and Industry Malaysia (NCCIM); and President of the Associated Chinese Chambers of Commerce and Industry of Malaysia (ACCCIM), Datuk Vincent Choo, Deputy President of Malaysia Retail Chain Association (MRCA), Datuk Haji Radzali Hassan, Chairman of Malaysian Franchise Association (MFA) and Henry Chen, Vice President of Boduo Investment Group.