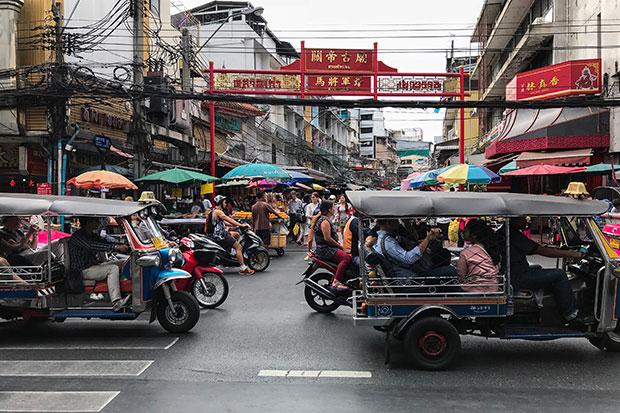 BANGKOK, Jan 28 — Nearly every capital around the world has a Chinatown and Bangkok's can be found along Yaowarat Road and its surrounding streets such as Charoen Krung Road and Phat Sai.
Started more than a century ago, the Yaowarat Chinatown is home to Bangkok's Thai-Chinese community. Which means there is plenty of good food and a perfect neighbourhood for a food hop.
Wandering around, we pass by numerous Chinese medicinal shops selling ginseng, dried fish maw, bird's nest and more. Shops selling Chinese wine and shops selling teas. Goldsmiths and temples along the same street. But we're not here to shop; we're here to feast and we best get started.
However early we might arrive at Eiah-Sae, our first stop of the day, we aren't the earliest. The 90-year-old coffee shop always seems to have a few (if not most) of its tables occupied by old men from the neighbourhood, carrying on a conversation with each other in Teochew. Who could ask for better company?
Eiah-Sae is basically a Thai kopitiam, albeit one with a long history in Chinatown. The menu is fairly straightforward. Nearly everyone orders the kafae boran (literally "old coffee"), brewed the traditional way with a flannel filter. Black or white (with condensed milk, not fresh milk, of course), coffee in Thailand is very sweet.
To go with our kafae boran, we order some khanom pang ping (toasted bread) that arrives slathered with our spreads of choice: half butter and half sangkaya (a shocking green egg-and-pandan jam).
Sliced into squares and eaten with a toothpick, this wasn't our usual roti bakar — making Yaowarat a somewhat familiar Chinatown feel entirely new to us.
During the cool season, which lasts from November till March, there are many stalls selling roasted chestnuts (kao lat). We watch the "performance" of the vendor as he flips the wok expertly, continuously tossing and stirring the chestnuts within to ensure an even roast. Is there a more delicious fragrance than the aroma of chestnuts caramelising, thanks to the occasional spray of syrup into the wok? We think not.
For lunch, we head to Nai-Ek at the junction of Yawarat Road and Yaowa Phanit. The always bustling shop is known for its kway chap (the same name in Thai, apparently). The eponymous founder first arrived in Thailand from China in 1960 and started selling kway chap from a push cart before opening this shop two decades later.
Today the next generation mans the simmering vats of well-cleaned offal braised in a dark sauce seasoned with spices such as cloves, star anise and cinnamon. The slippery-smooth rolled rice noodles are served in a peppery soup topped with pork innards such as intestines, tongue, stomach, kidney and liver. Some fresh coriander and fried garlic add an aromatic dimension to every bowl.
Braised pork trotters is another favourite. So is Nai-Ek's crispy pork belly (moo krob) on rice. Served with some greens, this is not unlike our siew yoke fan, albeit doused with a thick, slightly tangy gravy. Double-boiled soups such as duck with winter melon and black chicken with Chinese herbs make it a complete meal.
Leaving Nai-Ek, we spot many stalls selling fresh fruits sold along the streets. Mangoes and papayas, coconuts and rambutans, even more exotic fruits such as santol (gratawrn in Thai) and snake fruit (sala). The King of Fruits is, naturally, the durian or turian as the Thais call it. The most popular varietal is the Monthong (or "Golden Pillow") which is very rich, though enthusiasts may prefer the more pungent Chanee cultivar. The vendor will wrap each individual segment of durian with wax paper so no more worries about sticky fingers!
One of the best places for Thai Chinese desserts in Chinatown is also one of the most unexpected: A former medical clinic. Located near the entrance of the Chareon Chai Alley (a historical centre for the Chinese community here), the shop still bears the original signboard. So when locals say they're going to Solid Clinic, they aren't visiting the doctor but after a sweeter experience instead.
Indeed what is sweeter than a bowl of black sesame soup (ji ma wu) or red bean soup (hong tao sui)? We're delighted at their Cantonese names — a flash of recognition! Solid Clinic's most popular dessert is bua loy nam king, which is akin to our black sesame tong yun (dumpling balls) in a lightly sweet ginger soup.
And some legacy of the shop's past remains: The Teochew owner tells us her grandfather was a physician educated in Hong Kong, hence the Cantonese-style tong sui desserts. The family believes strongly in the medicinal benefits of black sesame — to replenish blood in the body and treat ailments such as anaemia.
We're more than happy to believe this, plus it tastes delicious!
Midday turns to early afternoon. It's getting hot and time to call it a day. Before we depart, we quench our thirst with freshly pressed pomegranate (tab tim) juice at a stall. As we sip the ruby-red beverage, we say a little prayer that we'll return to Yaowarat. Sooner rather than later, we hope.
Eiah-Sae
103-105 Phat Sai, Samphanthawong, Bangkok, Thailand
Open daily 4am—8pm
Nai-Ek
442 Soi Yaowarat 9, Samphanthawong, Bangkok, Thailand
Open daily 9am—4am
Solid Clinic
469-471 Charoen Krung Road Soi 23, Bangkok, Thailand
Open daily 9am—5pm; intermittent days off