PETALING JAYA, July 8 — Our love affair with traditional kuih seems to be fading. Sadly, in recent years, the humble, unassuming kuih has taken a back seat, especially with the younger crowd who prefer Instagram-worthy cakes and desserts.
Ask a random stranger in their 20s and they can't even tell you the name of the kuih, let alone what is its taste.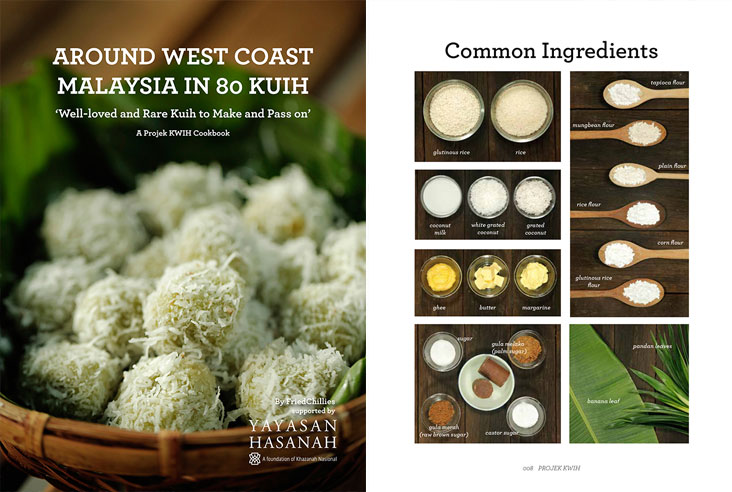 The research and verification process for the kuih recipes in the book took up to nine months to complete (left). For those who are unsure what ingredients are needed to kickstart your kuih making, there's easy-to-refer pictures in the book (right)

What they don't realise is behind each kuih, lies our heritage and culture. Without our support, some kuih will go extinct.
It's time for a kuih makeover and FriedChillies is leading the way to drum up interest for kuih with the release of their book, Around West Coast Malaysia in 80 Kuih. This falls under the Project KWIH (Kuih, Warisan, Ihsan Haridepan) with Yayasan Hasanah.

In the kampung, many hands make light work of making kuih



One of the important things during the project was picking up the petua or tips from the makcik who have been making these kuih for many years

So what is kuih? "Kuih is anything you don't eat as a main meal," explained FriedChillies founder, Honey Ahmad. This covers anything from bite-sized snacks to even sweet pengat and bubur.
As the definition is a wide one, for their book, FriedChillies decided to only focus on 80 types of sweet and savoury kuih served at breakfast and teatime.
Encompassing the West Coast of Malaysia, this covers the states of Perlis, Kedah, Penang, Perak, Selangor, Melaka and Johor. Honey explains to us that there are plans to work on two more kuih cookbooks. One will focus on the East Coast with states like Pahang, Kelantan and Terengganu and the other will cover East Malaysia. 

Fried Chillies' chef Lisa Khalid picked up how to make halwa maskad, one of the endangered kuihs that is featured in the book



Tapioca is cut to make the kuih

"We told Yayasan Hasanah that we are at a gap between almost lost and belum hilang. We're at the grey area where It's up to us, as Malaysians....do we want to save it or let the younger generation think butter pecan and red velvet cake as Malaysian?," explained FriedChillies co-founder, Adly Rizal.
That pitch to save, what Adly calls, 'kuihs on the brink of death' won them the funding from the foundation. "It's not about making the money but just getting funded enough to spend the time to actually really capture and preserve this before it is too late."
Armed with their contacts, Fried Chillies spoke to makciks, kuih sellers and even friends' aunties to extract the recipes. What was most important was the sharing of petua or tips. "There's always recipes you can find but the petua is what can make or break the kuih," said Honey.

The bahulu may be the simplest to make but it's hard to nail the dry, fluffy and very light texture (left). Kuih cara berlauk topped with minced beef, fried shallots and fresh cut chillies, makes the perfect savoury teatime bite (right)



The gula Melaka is chopped and boiled to make a sauce for the som som

Those precious nuggets of knowledge have been collected through their many years of making the kuih. For these kuih makers, they often feel it is insignificant since it's routine for them.
Sometimes, it's hard to explain, like the consistency of the batter. Even their descriptions for the tricks are unusual, like saying how a rice flour and coconut mixture for kuih jongkong is ready, once it starts to boil and form bubbles that pop just like a frog! Similarly, som som that resembles kuih jongkong, is ready when the mixture pops like air mata ikan and develops a glossy sheen.

The gula Melaka syrup made by boiling the palm sugar with pandan leaves, can be best described as our local caramel sauce, maple syrup and sugar drizzle, all rolled in one (left). Master the som som recipe, the basis of the Malay rice floured base recipes (right)



After doing the cookbook, Lisa Khalid (left) and Honey Ahmad (right) have reached an appreciation for our local kuihs

Most times, the recipe is just agak-agak and they are not even aware of the precise measurements. Some even use family heirlooms like a cup or even day-to-day items like a bucket to measure out the ingredients, just like how their forefathers did before.
To ensure the measurements are exact and the recipe can be replicated by others, FriedChillies brought a weighing scale to take out the uncertainty.
Basically at the end of the day, kuih uses the same ingredients: pandan, rice flour, coconut milk and salt. "It's just the ingenious ways they make it different," explained Honey. In addition, Lisa Khalid who helps out in their test kitchen tells us that they'll switch colour or flavour to create a difference.

Arissa is eaten with an interesting combination of sambal belacan, crispy shallots and a dash of honey (left). Enjoy this wobbly som som with a texture similiar to an Italian pannacotta with gula Melaka syrup (right)

The project took about nine months. Their greatest challenge was the people. Sometimes they promise to give the recipe but they don't later as they don't like something, down to the fact that the interviewer is too handsome, that the husband gets jealous!
In the book's foreword, they write, "Conservation is important, but when it comes to recipes, true preservation can only happen if people keep on making and eating them. Only then, can we pass on the taste and culture to the next generation."
Recognising the need to make kuih, an accessible topic that is not intimidating for beginner cooks, Honey set out to categorise the kuihs, like a step-by-step course.
Start with the beginner kuih to get your hands used to the process. "It's like the butter cake, you need to know it before you go to learn to make more complex cakes, you got to learn how to make a good butter cake, so you understand how butter reacts to sugar. And santan is the butter in Malay kuih."
This include the likes of roti jala served with kuah durian, abuk abuk and getuk ubi. Once you're comfortable, move to the intermediate kuih, which requires more effort. A good example is som som, or what Honey calls, the mother recipe for rice flour-based kuih.
Finally after getting the hang of handling the tricky rice flour (it needs a lot of moisture!) and santan combinations, you can tackle the challenging section. Usually, these are multi-step recipes or even tricky kuih best made during the weekend. This includes dodol which requires a lot of elbow grease or apom johol, a fluffy pancake.

When you master making som som, you will learn how to deal with the rice flour mixture, which absorbs a lot of moisture (left). Add a drizzle of honey on arissa to get a slight sweet edge to the savouriness (right)

The book also has a section on everyday kuih or crowd favourites you can master and whip up for teatime at home like onde onde and kuih cara berlauk. Crucial to the project were the endangered kuih.
"Certain kuihs become extinct, as nobody looks for them anymore," explained Honey. Usually, they fall off the popularity charts, since they can be state specific.
Sometimes, they may also not suit our current tastebuds. One such recipe is arissa, made with oats, spices, chicken or lamb and a ton of ghee. Honey explained that the use of such a lot of  ghee helps to preserve the kuih. You can eat this extremely rich kuih like a porridge or cut in cubes and fried till crispy. It's eaten with a unique combination of sambal belacan, fried shallots and a drizzle of honey. Strangely, the sweet and savoury flavours work well to make this kuih, a moreish bite.

Arissa is eaten with an interesting combination of sambal belacan, crispy shallots and a dash of honey (left). Enjoy this wobbly 'Malaysian pannacotta' or what Honey calls, the 'Italian som som' with gula Melaka syrup (right)

With this book, it's just the tip of the iceberg since a multi-step process is needed to push kuih back in the spotlight. In the future, FriedChillies hopes to conduct workshops and release kuih making videos on their platform.
This will complement the book, allowing those who are interested to see how practicality and theory are applied together. There is also an idea to host a kuih event, similar to their popular nasi lemak and burger events, where the makcik will demonstrate how to cook that forgotten recipe. "Some of them are so old and they feel so happy that people are interested in their recipes as their own children are disinterested."
Other ideas include teaching kuih in a culinary school, which will foster the demand at the hotels. FriedChillies is also doing a coffee and kuih pairing. "Certain things are very ngam and it also makes commercial sense."

Who can resist this crispy kuih karas with its delicate, filigree strands with a caramelised sugar flavour! (left). The serak jagung is a mixture of freshly grated corn and coconut that is steamed in corn husks (right)

A hurdle that kuih also faces is the pricing, Based on a FriedChillies survey, even though people want to only pay RM1.50, the actual cost of a piece of kuih is RM2.50.
What Adly emphasises is a need to revolutionise how we perceive kuih. "If we can address that branding issue, they are able to pay that price that is deserving for the kuih, then our local kuih pricing will naik and people will get the local kuih that they deserve. The next big thing will be our local kuih. And it's gluten free, we can easily market it." Honey added, "I think the hope lies in exposing people to good kuih, then they will want it."
Let's make kuih cool again!
Around West Coast Malaysia in 80 Kuih is available at Yayasan Hasanah (Tel: 2272 6400). For selected recipes and instructional videos, visit www.friedchillies.com