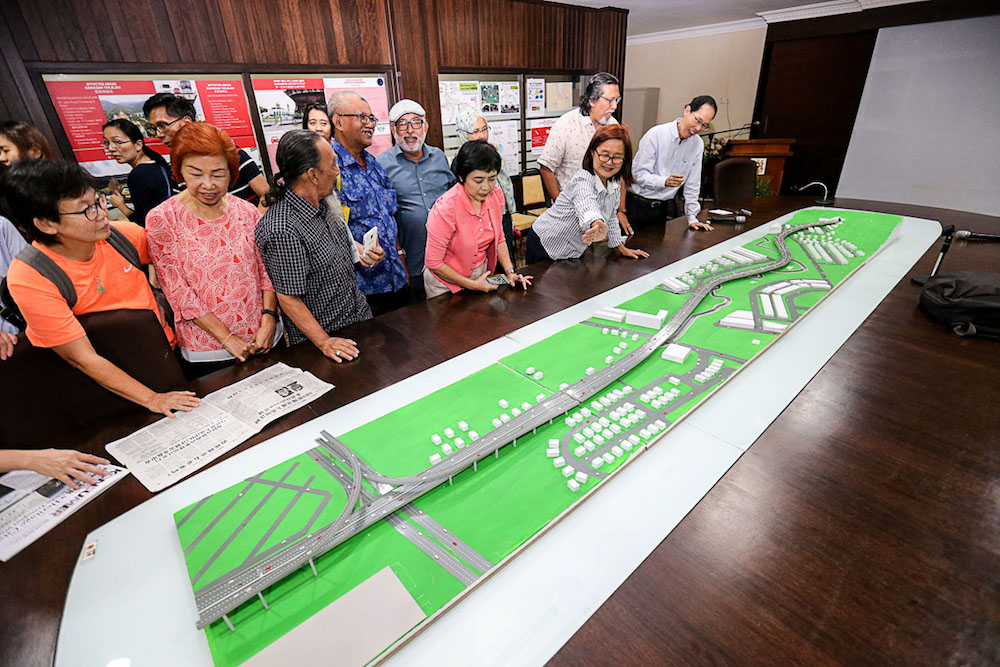 Subscribe to our Telegram channel for the latest updates on news you need to know.
---
GEORGE TOWN, Oct 1 — Penang's bid for the Pan Island Link (PIL1) highway could come at the expense of the Light Rail Transit (LRT) that will run the same route, according to a Universiti Sains Malaysia (USM) transport system lecturer.
Associate Professor Ahmad Hilmy Abdul Hamid said the highway link would make the light rail system redundant, especially with Malaysians' preference for cars over public transport.
The PIL1 is a 19.5km highway that will cost RM8 billion and connect Gurney Drive to Bayan Lepas with six interchanges; the 30km LRT link is meant to link Penang International Airport in Bayan Lepas to Komtar in George Town via a 27-stop line for an estimated RM8.4 billion.
"They are building the highway first so people will already be using the highway and when they build the LRT, people will not use it," he said.
"If we want people to take the public transport, we must not provide them with alternatives, we must make sure that it is more convenient for them to take public transport than driving," he said in an interview with Malay Mail.
Of the two, he backed the LRT but said this would still depend on last-mile connectivity and parking facilities, saying most road users tend to be commuters who could easily be made to switch to public transport if these factors are taken into consideration.
Only an estimated four per cent of the Penang population use the state's public transport, he said.
"A good road management system will have to reduce the use of private vehicles by prohibiting these vehicles in congested areas such as implementing congestion fees and higher parking fees," he said.
This would require both political will and long-term planning to ensure that road and public transport solutions complement instead of nullify one another.
A good way to "cover the last mile" from stations to housing areas is by re-introducing mini buses, he suggested.
"These mini buses will be able to go into residential areas and narrow roads in housing areas to cover the last mile and bring people to the nearest station," he said.
He commended the state government's RM15 million Congestion Alleviation Transport (CAT) feeder bus system as very good and with potential for expansion and improvement.
The CAT bus system, a collaboration between the state government and RapidPenang, has 52 buses plying 13 routes in the state to connect residents in some housing areas to hospitals, clinics, shopping complexes and main roads with bus stations for routes to other locations.
He said the crucial part about any public transport system is to be reliable.
"Once they build up trust in the people, make the system reliable and people won't lose their jobs for being late due to transportation problems, people will take the public transport system," he said.
He used the KTM Komuter service connecting Butterworth and Bukit Mertajam to Alor Setar, Sungai Petani and Batu Pahat as an example.
"Initially, very few people took the trains, but now that people find it convenient, the trains are often crowded, so it is proven that once a system is trustworthy and efficient, people will take it for their convenience," he said.
He hoped the state government will be open to other ideas and suggestions for a better transportation system instead of concentrating only on the proposed PIL1 and LRT.
Groups such as Penang Forum are strongly opposed to the PIL1 and want the PTMP to be reviewed over weaknesses they perceived in is EIA.
An online petition was launched to protest against the project while thousands also wrote letters to object against the project.
The PIL1 and the LRT are part of the state government's RM46 billion Penang Transport Master Plan.