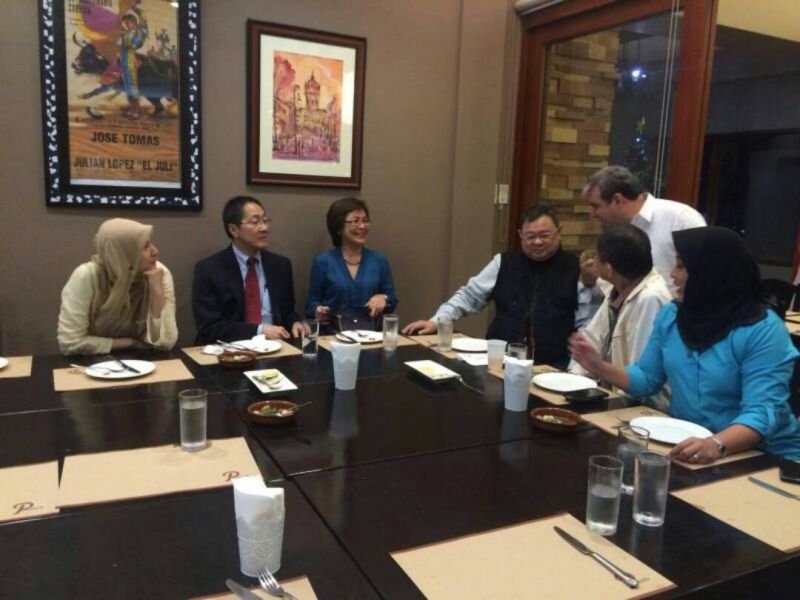 KOTA KINABALU, Nov 24 — Nurul Izzah Anwar was the centre of attention today at the Sabah legislative assembly, with state lawmakers here still fuming over the PKR lawmaker's recent photograph with so-called Sulu "princess" Jacel Kiram.
The lawmakers took turns to voice their displeasure at Nurul Izzah's meeting with Jacel, which they said was insensitive to Sabahans and bordered on treason, and even went as far as to suggest the peninsula-based leader be banned permanently from entering the state.
Datuk Ahmad Bujang (BN-Sindumin) said that whatever excuse Nurul Izzah gave for the meeting was unforgivable, considering the leaders had been photographed holding posters to "Release Anwar" together.
"Nurul Izzah is playing with fire. What can princess Kiram do for her campaign because she is not in Sabah or Malaysia? How can she be of any help to DSAI," Ahmad said, referring to the initials for Datuk Seri Anwar Ibrahim, who is Nurul Izzah's jailed father.
"This clearly shows it was pre planned and asking for help from the state's enemy is beyond irresponsible. I call on the state government to ban Nurul Izzah Anwar from entering Sabah again because she is a traitor and the country and state," he added in his speech to the august House.
The ban was also proposed by Tungku representative Datuk Mohd Suhaili Said and Sulabayan representative Datuk Jaujan Sambakong, among others.
Sabah deputy Speaker Datuk Johnny Mositun later issued a statement to support the suggestion.
"Bar her entry to Sabah as a lesson to her and any others who think they can ride roughshod over our feelings and dignity," said Mositun.
"As a Member of Parliament and seasoned politician she should not have put her personal agenda of freeing her father from prison before that of the feelings of Sabahans. Anyone who is a friend of our enemy is also our enemy," said the Parti Bersatu Sabah secretary-general.
Sabah PKR representatives in the state assembly Datuk Lajim Ukin (Klias) Terence Siambun (Moyog) and Roland Chia (Inanam) were forced to fend off attacks from backbenchers who demanded that they explained their party vice-president's actions.
"You keep accusing her of cohorting but where is the proof? Show me the proof," said Siambun .
Chia, in his debate was also interrupted at several intervals to answer questions of Nurul Izzah's motivation and intention behind the meeting but refused to answer the jibes.
Datuk Abdul Rahim Ismail (BN-Pantai Manis) claimed that Nurul Izzah's family has a history with the Kiram family, noting that Anwar had once met with the late "sultan" Jamalul Kiram III, Jacel's father and the man said to have started the bloody Lahad Datu incursion in 2013.
"Is this their way of continuing the relationship? If we are defending our sovereignty, we have to curb these incidents at an early stage," he said.
Nurul Izzah caused a stir here after photographs of her with Jacel emerged in the public sphere.
Jacel's father was said to be the man who masterminded the armed incursion in Sabah in 2013 that claimed the lives of Malaysian soldiers.
The Lembah Pantai MP has since confirmed that she was in the Philippines on November 9 with fellow federal lawmaker Chua Tian Chang as part of a PKR delegation to meet with "various stakeholders" there and subsequently apologised for the meeting.
Police are currently investigating the matter.