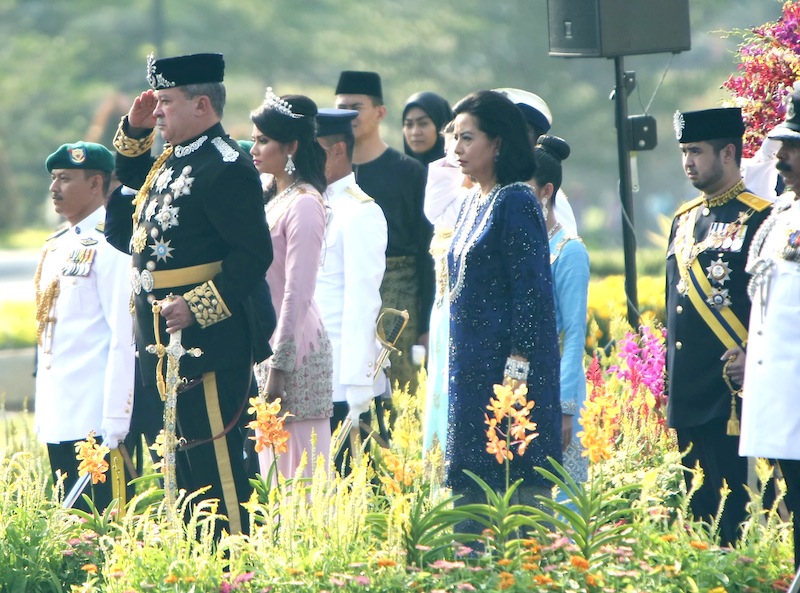 KUALA LUMPUR, Aug 21 — In a simple but heartwarming gesture, the Permaisuri of Johor Raja Zarith Sofiah Idris Shah sought to reach out to Malaysian students abroad last night after the ringgit plummeted further against several major currencies worldwide, including the greenback and the pound sterling.
In a short message on her Facebook page, the Oxford graduate said she was thinking of how Malaysian students studying in the UK and in the US have been coping since the country's currency dropped.
"How much do they have spare to buy food after they have paid for their rent and their daily commute? How much can their parents or families send them?" she wrote.
National news wire Bernama reported the ringgit dropping to 4.1350 against the US dollar at 5pm yesterday, a 0.75 per cent decrease compared to 4.1040 against the same currency when trading stopped on Wednesday.
It slid further against the British currency yesterday to 6.4589 from 6.4343 a day earlier, and weakened against the euro to 4.6039 from 4.5362.
Raja Zarith Sofiah's next lines showed she was very much aware of her privileged status, and was keen to put it to good use.
"I am here in the UK on holiday but I am lucky because I can afford the luxuries here," she added.
"To the Malaysians who are living or studying in the UK please let me know how I can help. Is there a student body which can help with students who need financial help?" she asked.
The Perak-born royal's post drew some 9,400 "likes" and was shared 2,500 times on Facebook at the time of writing.
Raja Zarith Sofiah, who recently celebrated her 56th birthday on August 14, studied at Cheltenham Ladies College in England until Form Six and furthered her education at Somerville College, University of Oxford where she graduated in 1983.
Education appears to be close to her heart; she has set up the Raja Zarith Sofiah Negeri Johor Foundation to raise funds for diverse educational programmes.
National news wire Bernama has reported she is a prolific writer who has also authored children's storybooks.
She is also said to be active in community work and is the patron of the Johor Cerebral Palsy Association and Royal Adviser to the Malaysian Red Crescent Society.
Since last year, the ringgit has lost over a fifth of its value against the US dollar, now hovering around RM4.10 to the greenback and below the RM3.80 peg that was imposed during the 1997 Asian Financial Crisis.
Although the sharp drop was not unique as it was similarly observed in other commodities-driven countries including Indonesia and Australia, Malaysia faces political instability amid the 1Malaysia Development Berhad (1MDB) controversy.
Investors, particularly foreigners, have begun to shift their funds to less volatile locations, sparking speculation of currency and capital curbs, but Bank Negara has said it will not take such measures.
Prime Minister Datuk Seri Najib Razak also announced yesterday that Malaysia's strong economic fundamentals negated the need for currency or capital controls amid the ringgit's plunge in value and an ongoing foreign investment flight.
He added that the country's gross domestic product grew nearly 5 per cent in the previous quarter, which he credited to the diversification of the country's economy via the introduction of the Goods and Services Tax as well as the reduced reliance on oil and gas revenue.