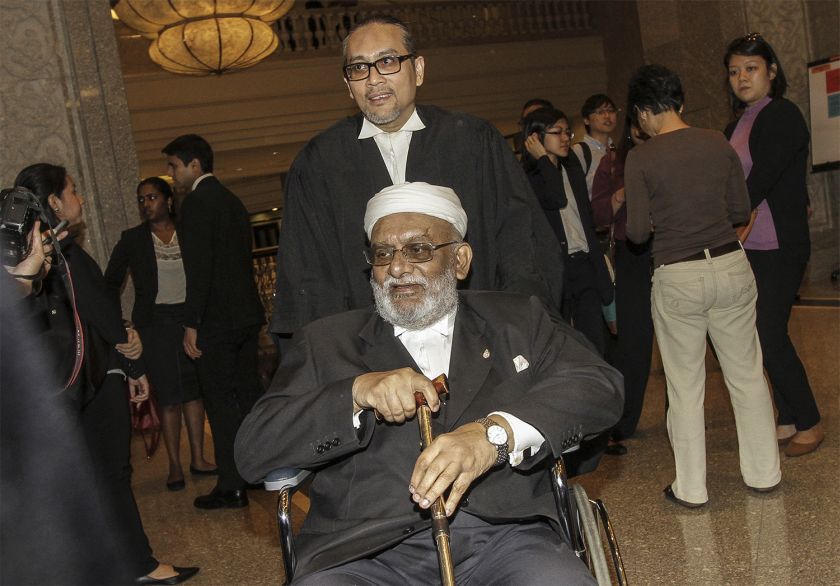 PUTRAJAYA, Aug 13 — A Shariah court cannot fully function with non-Muslim Shariah lawyers as it cannot cite them for contempt, a lawyer representing the Federal Territories Islamic Council (MAIWP) told the Federal Court today.
Datuk Sulaiman Abdullah, who is acting for the council in seeking to bar non-Muslim lawyer Victoria Jayaseele Martin from practising Shariah law in the federal territories, reminded the five-man bench that the Constitution does not give the Shariah court any jurisdiction over non-Muslims.
"In a faith-based court regulating Islamic affairs and for the benefit of Muslims, only people of that faith can argue in that court," said Sulaiman.
"If they want to practise, they must subject themselves to the court's jurisdiction," he added later."
MAIWP and the Attorney-General's Chambers (AGC) are appealing a decision by the Court of Appeal which decided that the part in Rule 10 of the Shariah Lawyers Rules 1993, which said that only Muslims can be admitted as Shariah lawyers, exceeds the boundaries of Section 59 of the Administration of Islamic Law (Federal Territories) Act 1993.
Section 59 states that "any person having sufficient knowledge of Islamic Law" may be admitted as a Shariah lawyer in the Shariah courts and does not impose a requirement for the person to be Muslim.
But among other things, it states that the religious council may make rules governing "procedure, qualifications and fees for the admission of" of Shariah lawyers, subject to the Yang Di-Pertuan Agong's approval.
Sulaiman claimed that Parliament passed the Administration of Islamic Law (Federal Territories) Act 1993 in general terms in order to leave the council to sort out the details of its implementation, including the regulations to allow a Shariah lawyer to practice.
Victoria's lawyer, Datuk Dr Cyrus Das, retorted by saying that Rule 17 and 18 of the same rule allow for disciplinary action to be taken against a Shariah lawyer once she is admitted, and suggested that they be used in absence of the power to charge for contempt.
The case is among two hearings today where state Islamic authorities are arguing that fundamental constitutional rights guaranteed to all Malaysians cannot be applied to determine the validity of Islamic laws.
The Catholic Lawyers Society of Kuala Lumpur, rights group Sisters in Islam, the Islamic Renaissance Front, the Bar Council and Shariah Lawyers Association of Malaysia had appeared for watching brief.
The five-man panel led by Court of Appeal president Tan Sri Md Raus Sharif, has reserved its written decision to a later date.
Victoria received a diploma in Shariah Laws and Practice from the International Islamic University of Malaysia in 2004.
She also holds a Masters in Comparative Laws from the same university, a degree which widely covers Islamic laws and which she obtained a few years ago.