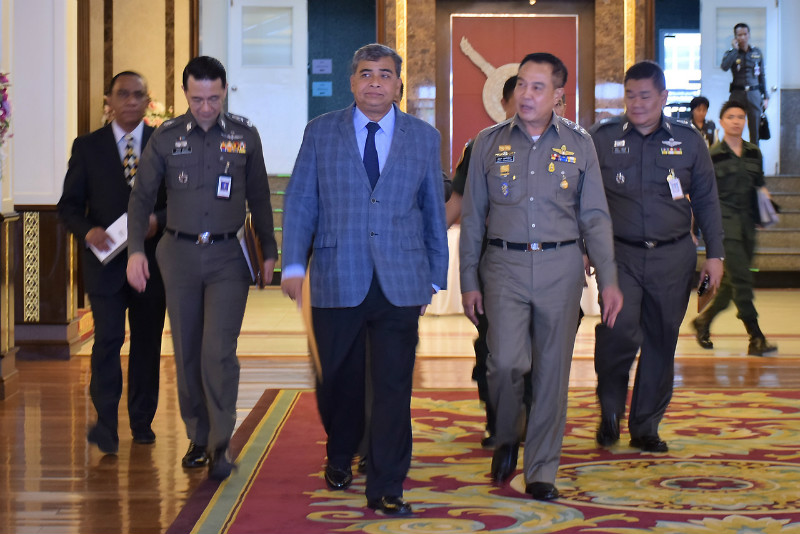 KUALA LUMPUR, July 24 — Tan Sri Khalid Abu Bakar said today the Royal Malaysia Police (PDRM) will seek assistance from the Attorney-General to gain access to Xavier Andre Justo, the Swiss national currently under Thai police custody.
According to a brief news flash on Bernama, the Inspector-General of Police (IGP) also confirmed that his investigators will only get to speak with the former PetroSaudi International (PSI) director after their Thai counterparts have completed their investigations.
"PDRM will consult the Attorney-General to get access to interview Justo. Justo can only be interviewed by Malaysian police after he is charged in a court in Thailand," the IGP, who is believed to have just returned from his trip to Thailand, was quoted saying in the news flash.
According to Bangkok Post this morning, Thai police rejected the second attempt by Malaysian authorities to see Justo, the man believed to be the person responsible for leaking documents on PSI's controversial deal with 1Malaysia Development Berhad (1MDB).
The English-language daily said Thai police chief Somyot Poompunmuang told Khalid yesterday that Malaysia must go through the appropriate channels in order to speak to Justo as the former PSI director is not a Malaysian national.
The report said Poompunmuang also told the IGP to go through the office of the Attorney-General and the Foreign Ministry.
He also reportedly reminded IGP Khalid that the Thai police are still investigating the matter.
According to Bangkok Post, the IGP's trip to Thailand yesterday was the second visit so far by Malaysian authorities on the same matter.
The report said on July 16, Malaysian diplomats and police based at their country's embassy in Bangkok embarked on the same mission but were given the same response.
Justo was arrested at his home in Koh Samui on July 22 and is currently held in the Bangkok Remand Prison where he faces charges for blackmailing his former employer over the documents.
The 49-year-old former PSI director has since reportedly admitted to the charges to Thai police as well as provided information on the data from PSI that he had stolen when he left the firm in 2011.
According to Justo in an interview today by Singapore's Straits Times, the documents were eventually given to two groups – Sarawak Report's Clare Rewcastle-Brown and her "IT" guy, and a "Malaysian businessman" and his colleague.
After the ST's report was published today, The Edge Media Group's Datuk Tong Kooi Ong and Ho Kay Tat confessed to misleading Justo by promising him US$2 million (RM7.6 million) payment in exchange for the documents.