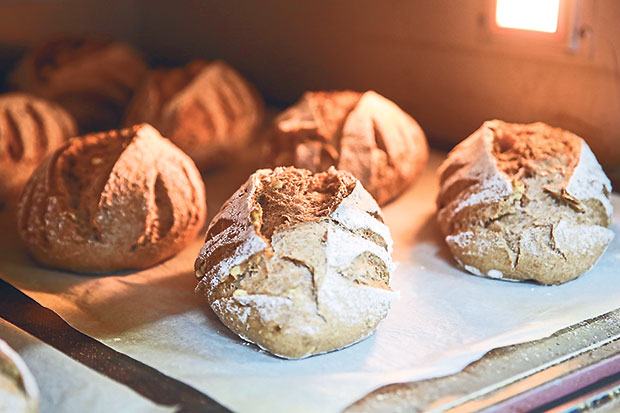 KUALA LUMPUR, Sept 6 — If you ask a German living abroad what they miss about home, they will probably say bread. After 15 years of fluffy soft breads filled with preservatives, media production company owner Oliver Rollar decided that it was time to take matters into his own hands.
In March, he gathered his best friends — Bobby Brar, Chris Gruber and Steve Tan — to join him in opening a German bakery in Malaysia. "The main reason why is I think Malaysians will like this kind of bread. It's not only for me. Of course, it's a bit selfish of me, as I miss eating proper bread but I think Malaysians are fed up of eating industrial manufactured white bread," said Rollar.
Brar worked in the IT industry while Tan is from the F&B industry and Gruber, a trained lawyer, works in Rollar's company.
Once the business plans for the bakery were drawn, it was time to look for its new home. The search took them to places like Bangsar, Damansara Heights and even Desa Petaling but Rollar was eyeing Taman Tun Dr Ismail.
As Rollar explains, "Taman Tun Dr Ismail was our number one choice as there is no bakery and only one cake shop, which is not competition to us.
"Secondly, the area has a lot of well-travelled residents who have been to Europe and tasted the breads. Our market is not Mat Sallehs but the local crowd." Unfortunately, the nearest place they could find was in the Damansara Uptown area. Luckily perseverance paid off and after driving around the area a few times, they spotted their ideal space along the quieter Persiaran Zaaba where it faces a row of trees, which reminds Rollar of a kampung.
Being hands-on owners, the four were at the site from day to night monitoring the renovations throughout the whole six weeks. "You have to look after your baby," said Rollar.
The bakery is decked out in a rustic style with shades of red matched with sturdy wooden tables and chairs. Taking centrestage in the bakery is a large black-and-white picture depicting German bakers from long forgotten days.
Rollar had spotted the picture from a website for a public-listed cookie manufacturer in Germany. He contacted the CEO of the company who was so thrilled with his request that she personally replied him within eight minutes! "The black and white gives a beautiful contrast to the rustic décor and it highlights the traditional craftmanship of making breads," said Rollar on why he chose that particular image for the bakery.
Customers can peek through the glass window to see the craftsmanship behind their handmade breads. "What these guys do every day is really hard work and it's half a science and half an art. Whatever success we have, those guys inside there deserve all the credit, which is what we want to highlight," explained Rollar. With the tagline, "quality to tradition", Der Backmeister, which means master baker in German, definitely is upholding that.
Rollar's ambition is to bake like the old days. "We want to bake bread fresh like it was done 150 years ago. Last time in Germany, people used to make their own bread at home and they go to a central kampung oven and bake it there," explained Rollar. Since it's not possible for a steady source of untreated wood to keep a proper wood fire oven going like the old days, Der Backmeister settled for a steam and stone oven. Not commonly used, the oven creates enough heat to keep the breads moist, while the stone gives better heat distribution during baking, as explained by Tan.
Assisting Der Backmeister is their bread guru Klaus Adolph, courtesy of a special programme by the German government that offers retirees a chance to work as consultants. "It's not a monetary incentive that they do that. These people have achieved everything with their business and they also want to travel around the world," explained Rollar.
With four bakeries in Cologne and 50 years' experience, Adolph is "heaven sent", as described by Rollar, to guide Tan and Mohamad Shafik who are in charge of the baking at Der Backmeister. Marcus Schlensog, a new baker from Germany will also be joining them. "When you bake German breads, you can't use it one on one like in Germany as flour reacts differently and the temperature plus humidity is different. You have to have the experience to get the dough right and to do the right thing," said Rollar.
Any way you slice it, nothing beats the bread from Der Backmeister. The bread is just tasty on its own, needing just a little butter. Try their masterpiece, the OppaKlaus with a whopping 80 per cent rye content and it'll make you into a convert for German rye breads.
The bread is named after Adolph, who is a grandfather of seven. The delicious taste of the breads is attributed to the long fermentation process it uses. "When people complain our bread is expensive, we ask them to come at 5am to our bakery to see the effort and many hours that goes into our bread," explained Tan. All their ingredients are natural with no preservatives. The best way to try their breads is to pick up a sampler pack from the counter, which contains slices of three to four different breads. They come in varying rye amounts to suit everyone's needs.
Prior to Der Backmeister's opening, there was already a buzz around the neighbourhood as the excitement built up that they were opening a much-needed bakery in the area. On the first day they opened after 1.30pm, their first customer walked in 10 minutes later. By the end of the day, their breads were all sold out. Since Gruber is a Muslim convert, the bakery is pork free. Rollar stresses they're not a restaurant but just serving snacks and sandwiches. They also have a hearty-tasting goulash, a classic dish which all Germans love.
Aside from their breads, Der Backmeister also serves a selection of pastries. Look for their apple strudels, which sells out within one hour during the weekends. It comes out from the oven at 9.30am to eager customers who can't get enough of the apple laden pastry. You also have the classic pretzels, a favourite with the children and commonly found in Bavaria. Der Backmeister's version is a little softer with a slight salty taste.
In terms of offering new items to customers, it's a constant experiment. One experiment would be pairing rendang tok with their ciabatta bread, a combination they inadvertently discovered was a delicious one when a customer gifted them her prized home cooked rendang tok to try. Rollar also reveals that for their next phase, they hope to start delivery of the breads. Initially it may involve working with a service, but they hope they can in some ways re-enact that neighbourhood classic, the roti man who delivers the daily bread to everyone's home. There's even talk of a food truck, as revealed by Brar, inspired by the movie Chef.
Since Der Backmeister opened its doors in July, it has quickly built a community of bread lovers. Brar knows all their faces from the man who drops by every time he goes to the pasar malam on Sunday to an uncle who always buys six buns. There's even a Johor Baru resident who pops by every time she's in Kuala Lumpur to buy their bread.
What has surprised them is they have also pulled in a crowd of locals who have close ties with Germany. One touching story relates how a mixed Malay/German man in his 60s felt when he accidentally discovered the bakery during a drive-by in the neighbourhood... he was so excited that he asked his wife to stop the car immediately and jumped out of it even before it stopped!
As Rollar describes, his face would beam like a kid in a candy store, every time he walks into Der Backmeister. Some customers even come to Der Backmeister to practise their German! Brar relates how one woman brought her 15-year-old daughter and asked whether she could practice speaking German with the bakers. Those stories are rewards for the hard work that Rollar and his buddies have put in. "We do not want to be a trend. We just want to offer good barang and hope people appreciate it," said Rollar.
Der Backmeister
40, Persiaran Zaaba, Taman Tun Dr Ismail, Kuala Lumpur.
Open: 8am to 7pm. Closed on Mondays.